Not All Those Who Wander Are Lost.
You know how I always say, I'm a writer, not a blogger? Yeah, it just makes me feel better about my infrequent posts on this site, because I do have guilt about this Apron Anxiety universe which I love, which I consider the core of all good things, which I should be more affectionate, or at least flirtatious, towards… In my defense (haha), I haven't exactly been living under a...
My Next Big Thing.
Details are not my style. And I've been so preoccupied with my Financial Dominatrix and Both Sides of the Breakup and New York Diet stories that …being blunt… it's hard to find time to blog at all. SORRY! That's why I was reluctant to participate in this perky blog-it-forward Q/A sent to me by the talented and delightful Amy Thomas of God, I Love Paris and the book...
To Rome With Love, and Not Enough Time.
I have resurfaced from the land of leaving my job and escaping to Europe. Physically at least. Mentally, I'm still somewhere in Italy with blistered feet, sun-kissed cheeks, liquirizia gelato, paprika Pringles and bummed puffs of cigarettes. I wasn't ready to come home to New York where life is grand yet my silent partner is restlessness. I was having way too much fun with...
Thirty Five.
Life works itself out. You just have to believe that, don't you? The world would be way too scary otherwise. Although some days, if I'm being perfectly honest, for no real reason whatsoever, I start to wonder: But will it really? I turned 35 yesterday. Birthdays always fuck with me. It's not really about the aging. Although, this year, it's kind of about the aging. The real...
Forgive Me While I Slack For a Second
Justifying this outrageous blog'bandonment by telling myself that you'd rather me focus on serious bookstuff than some stream of consciousness 'bout cold sesame noodles and salted caramel gelato. Just fake agree with me. Please? I feel bad. Here's everything: Life has been unimaginably delicious. I'm hearing from people deep from my past and thrillingly in the...
Security Tag.
Apron Anxiety has been fluttering between #1 and #3 on Amazon (in "Gastronomy") since Tuesday … omfg, insane, nuts, can't believe it, YAY, crazy, pinch me, kiss me, what?!!$@$!@$!! Off to refuel in Nantucket before my book party in Boston on Thursday. Although I just discovered some high-level-dress-prison-security-tag situation on the left hip of the brilliant, little...
Holy incredible time at my book party. Was SO nervous and somehow let it all go and actually enjoyed myself. I'm in the "Fuck it" stage, as one Berkeley writer recently taught me, and guess what, it feels really good! So much to write and tell and sort out inside myself, but for now, here's a link to a wild Entertainment Weekly story about my life. And I have to share this...
Blow Outs and Blow Jobs: Alyssa Shelasky Talks... →
Happy and Lucky and Loved.
I started this blog what feels like another lifetime ago. I wasn't even sure I'd tell anyone about it at first, and definitely didn't have any bold ambitions. Honestly, I just needed something to do. A few years later, this Tuesday, my memoir is coming out with the same title, bursting with stories of the same joy, the same ache — just more. I've never identified as a...
1 tag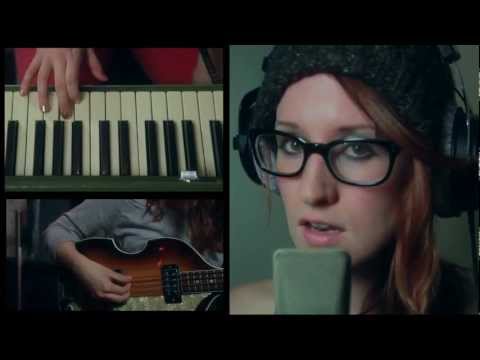 Easy Come, Easy Go.
The things I do, I do hard. When I laugh, I howl. When I cry, I wail. When I kiss, I shiver. If you're my friend, I'll fight your battles and find your answers. If you're my passion, I'll write you, sing you, shop you, spin you, smoke you, and sweat you until all the muscles of my mind, body or wallet wear out. If you're him: You have it good. Hard-core commitment -...
Win A Free Class (For Two!) at Corkbuzz
I have no interest in ever becoming a "food snob," sorry, but a "wine snob" is a secret aspiration. Wine talk - at its best - can be a blast … Taste the Ryan Gosling of reds … a rose that will be your best friend, then blow your husband … this white is a paranoid schizophrenic and she's off her meds … I mean, can we really go there with, like,...
The Show Must Go On
Twenty minutes before hair and makeup were supposed to arrive at my apartment, and one hour before the fashion team, prop stylists and photographers were set to buzz from below, I got the call. Someone I loved - very much - had died. He was sick, ALS, and it was time. But that didn't mean my heart wasn't ripped out and torn apart. Immediately, I started to cry thick, hard...
FREE CUPCAKES FOR YOU
Pre-order Apron Anxiety, from any retailer (see links above), send proof of your purchase, along with your mailing address, to ApronAnxiety@gmail.com to win a Georgetown Cupcake gift card valid for one FREE, luscious, sublime, FREE, heavenly, my favorite and FREE cupcake at any GTC location. First 50 emails get the goods - it's so easy. Buy the book, win a cupcake!
One Day I Will Talk About Something Else
Until then … "I loved this book. It's partly a cautionary tale about getting involved with young career-driven men and a love story about a woman and the city she loves and leaves and loves again. And finally, it's about good friends, a loving family, and the importance and good fortune Alyssa has for having both. Oh, and there's a great recipe for mac and cheese." —JOHN DELUCIE,...
Here Ya Go, World.
The only way to write a book is to conquer the idea of letting go…so….even though I'm totally horrified to hit SEND, here is the first chapter of Apron Anxiety! Just remember, it only gets better, juicier, sadder, happier, sexier, deeper, darker, drunker and more delicious. I'd be hiding under my bed for the next ten years if I didn't truly believe so.
Listen to this song - I heard it on...
"I made peace with the cruel fact that I'd never be quite the same again, that..."
– Alyssa Shelasky in her excellent forthcoming memoir Apron Anxiety: My Messy Affairs In and Out of the Kitchen (via rkb)
Moody Tuesdays
Tried to fit two days into one again. Didn't work out so well. Lost it on a wretched saleswoman at Barneys who wouldn't take back a couple untouched sweaters that I bought thirty-fucking-four days ago, instead of "thirty." People who use the word "store policy" are the absolute worst. I'd out the girl, full name/description right here so everyone could...
A Two-Second Sunday Read
Here's the "Best Meals of 2011" story I mentioned. Photo by: Jen Gotch
sousstyle.com →
Have you started living, breathing 'n dying for this new food/design/feel-good site yet? Prepare to cheat on me, and every other blog, once you get a taste of SousStyle. Pippa Lord is behind it - she's like Sienna Miller with an Aussie accent, more heart and less baggage. Raging girl crush!
Question.
What was your best food memory this year? I have to answer that for a magazine article. First thing that comes mind (having nothing to do w/ the photo above/I just like it) is a fresh out-of-the-oven almond croissant from Almondine, with a café au lait, sitting alone by the water, after days of stress, sleep deprivation and a sad, empty stomach.  But perhaps that's too simple. Tell me...
Where I've Been.
Forgive my slackerly behavior… The last few months have been the busiest, and I think maybe hardest, of my life! Honestly, the next time the universe shows its sharp edges, remind me that I survived July-October of 2011. But barely! Finishing the book, combined with starting this torpedo-like job, plus the usual NYC warfare, was collectively so much more lethal than I ever imagined. Weeks...
Wicked Game.
Autumn found us, work started, Irene came, 9/11 stung, edits ended, friends were made, romance was had. I've experienced extraordinary meals, sheer exhaustion, a disastrous flood, a naughty night out, a shit-ton of expensive oysters, dirt cheap (and crazy good) Cambodian num pang, and awkward encounters with Alec Baldwin and Owen Wilson. Love working at Grub Street, dream job, but my free...
A Celebration Over Sopressata and Shock
Last night, a friend took me to Lupa for a congratulatory dinner, celebrating my first week as the New York Editor for New York Magazine's Grub Street. (Oh yeah, did you hear!?) We shared sublime salads of summer corn and tomatoes, primis like peppery bavette and lemony linguine, secondis of whole fish and short-ribs, and gelato of melon and mint. The rosé flowed, the chef sent surprises,...
Ireland.
I'm in Ireland, where skin is dewy, hair is horrific, and itchy wool sweaters are the flirty, flowery sundresses - even in August. It's chilly, rainy and perfectly unglam here. The Irish are the nicest people I've ever met (growing up with the Egan family, I already knew this) and the potatoes, every which way imaginable, just don't get old. When I'm back I have a wee...
Just Another Day.
Yesterday. Edited fifty recipes for the book, less than half of which will be used…with my mother reminding me, nonstop, to credit grandma for the salad dressing, and not to forget the life-altering lemon cake she served sixteen years ago. Wrote/published three stories for Grub Street on Michael White, Ludu Lefebvre, and the sweaty success that was Meatopia. Some dramatic work stuff...
Flop.
The other day I bumped into an Apron Anxiety reader who said she liked me more when I was a total catastrophe in the kitchen. Well honey, we're about to get it on. Today I spent $50 at Whole Foods on fresh swordfish and a couple things to go along with it like lemon, eggplant and tomatoes. Forgot capers, as always. I wanted to make a light fish dish for lunch — that was the original...
Today I ate well. Maybe, too well. Oh well. It started with a baguette and cafe au lait from my local saving grace, Almondine. That so-totally-French owner is not one for warm and fuzzies, but holy pastry chef, can he bake bread. With a few slices of creamy brie, my delicious day went off with a bang.   After all the ice cream buzz dripping its way around the food blogs (ahem), I couldn't...
Nap Thyme.
I am tired. Like, too tired to wash my face, make my bed or pick up the newspaper that's been sitting at my door tired. My hair has been in a ponytail for so many days that it actually hurt to put it down. Yeah, I made a huge deadline (an extension to another huge deadline— which I obviously missed) and I feel like I've been hit by a truck, and sat on by the girl who weighed 703...